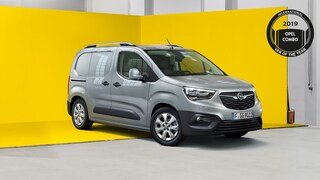 With total flexibility for moving people and cargo, the new Combo Van fits perfectly into your everyday life.
With a large, versatile cargo space and an efficient engine range, the new Combo Van is your ideal business partner.
Spacious and flexible, with smart safety systems and driver technologies, the new Combo Van is the ideal panel van for your business.
With a versatile cargo space, smart safety tech and efficient engines, the Combo Van is the perfect panel van for your business fleet.
THE FACTS SPEAK FOR THE COMBO CARGO.


With unparalleled versatility, innovation, advanced safety systems and fuel-efficient engines, the new Combo Cargo is the business partner you've been waiting for.

Highlights include:

Maximum load volume of 4.4m3(1)
Maximum load length of 3440mm2
Maximum payload of up to 1000kg for heavy hauls3,4
Fits two Euro pallets in the loadspace - L2 models only
Multimedia Navi Pro navigation system with 8" touchscreen4
Smart safety systems including Automatic Emergency Braking 5
Numerous driver assistance systems including Automatic Cruise Control 5
Up to 15 cabin storage compartments
Heated steering wheel and seats 5
Also available as long-wheelbase Combo XL, or as crew van for up to 5 people

1Load volume of up to 3.8m3 for the Combo, or 4.4m3 for the Combo L2 with the optional Flexcargo system. 2Load length of up to 3090mm in the Combo or 3440mm in the Combo L2 with the optional Flexcargo system. 3Maximum payload of 1020kg for the Combo and 955kg for the Combo L2. 4Standard on LE Nav models optional on Edition and Sportive 5Optional Please note, the models illustrated on the following pages may feature options or accessories available at extra cost and may not necessarily represent the correct specicifcation available in Ireland. Please check with your local Opel Dealer for full details.
MEASUREMENTS

SERIOUSLY CLEVER PACKAGING.


With an impressive maximum load length of 3090mm1,2, the Combo is compact on the outside but seriously spacious inside.

1Dimensions may vary depending on configuration. 2Maximum load length of 3090mm in the Combo L1, 3440mm in the Combo L2 with load-through hatch open and passenger seats folded down.

LOADING SPACE

SPACE FOR A FULL LOAD.

With a maximum loadspace volume of up to 3.8m1, the Combo has enough room to meet all of your cargo demands, so even long and awkard size can be moved easily.

1Cargo space of up to 3.8m3 in the Combo L1, 4.4m3 in the Combo L2 with load-through hatch open and passenger seats folded down.

PAYLOAD

HEAVY LOADS WELCOME.


A payload of up to 1020kg1 means nothing phases the new Combo, making it the perfect business partner.

1Maximum payload of 1020kg for the Combo L1 and 955kg for the Combo L2.

LOAD-THROUGH HATCH

LONG LOAD? NO PROBLEM.

A load-though hatch 1 in the bulkhead behind the front passenger seat allows you to easily stow extra-long objects on the move. 1Optional as part of the FlexCargo system

REAR ROOF FLAP

BRING YOUR LADDER.


Need to move extremely long cargo like a ladder? The handy rear roof hatch1 pops open to 40°, allowing longer objects to be safely stowed in transit. 1Optional on L1 models only.

INTERIOR CABIN STORAGE


EVERYDAY STORAGE.


With up to 15 handy cabin storage compartments, the Combo has space for all your gear.
PASSENGER SEAT BENCH

SPACE FOR THREE UP FRONT.


Sit three up front with the passenger bench1. Upfold or fold down completely for extended load space, or transform into a table - turning the Combo Cargo into a mobile office.

1Optional as part of the FlexCargo system

FOLDABLE PASSENGER SEAT

NO SPACE WASTED.


For the times you're driving solo with only the load to keep you company, the front passenger seat easily foldsup out of the way to create an even more versatile loadspace.

CABIN BULKHEAD

SECURE YOUR CARGO.


The interior bulkhead1 keep you, your passenger and the load safe, preventing items from protruding into the cabin space– a solid bulkhead is standard or there's with an optional glass version complete with safety grid.

DOOR OPTIONS

EMBRACE TIGHT SPOTS.


Single or dual sliding side-access doors1 make access to the rear of the Combo easy, and eliminate any danger of scrapes while parking in tight spots.

1Dual sliding side-access doors optional on L1, standard on L2 models.

VARIANTS

SUPERSIZE YOUR COMBO CARGO.


The Combo comes in two lengths – 4.4m for the L1, or 4.75m for the L2 variant with extra loadspace. Choose the L2 Crew Van to transport five including the driver.
EXTERIOR

ROBUST YET SLEEK.


A true Opel by design, the NEW Combo is the perfect way to representive your business.

INTERIOR

DESIGNED WITH YOU IN MIND.


With a raised seating position, up to 15 storage solutions, intuitive controls and serious versatility, the Combo's smart cabin is a real multi-tasker.
REAR VIEW CAMERA


LOOK BACK WITHOUT LOOKING BACK.


The Rear View Camera1 displays the van's surroundings on the 8" touchscreen2. Virtual guidelines help make reversing safe and simple.

1Optional as part of the Parking Pack 2Standard on LE Nav, optional for Edition and Sportive.

HEATED FEATURES

NO MORE COLD HANDS.


With heated seats1 and a heated leather steering wheel1 for warmth when cold weather hits, the Combo keeps you comfortable whatever the season.

1Optional as part of the Winter Pack

HEAD-UP DISPLAY

EYES ON THE ROAD.


With the Head-Up Display1, key info such as speed, navigation and driver drowsiness alert appears on a glass screen behind the wheel, so your eyes can stay fixed on the road.

1Optional

INTELLIGRIP

CONTROL YOUR GRIP.


The smart IntelliGrip1 system adapts to low-grip conditions such as driving in mud, sand or snow, and is available with five separate driving modes.

1Optional in conjunction with the Construction Pack
AUTOMATIC EMERGENCY BRAKING


SMART SAFETY SYSTEMS.


Automatic Emergency Braking1 with Pedestrian Detection warns of potential collisions with a pedestrian or another vehicle2. If no action is taken, the car will brake automatically.

1Optional as part of the Safety Pack. 2Works automatically above 5 km/h and below 85 km/h. From 0 to 30 km/h the deceleration metric to reduce the impact speed of the collision is 0.9 g. From 30 to 85 km/h the system reduces the speed by a maximum of 22 km/h. After this threshold, the driver needs to brake him/herself to reduce the speed even further. Operational speed range of AEBPD depends on the detected obstacle (mobile target: from 5 to 85 km/h; fixed target: from 5 to 80 km/h; pedestrian: from 5 to 60 km/h). Opel driver assistance systems are intended to support the driver within the system-immanent limitations. The driver remains responsible for the driving task.

LANE KEEP ASSIST


ALWAYS ON TRACK.


Lane Keep Assist1 alerts the driver with a lane departure warning and gently course-corrects if your Combo begins drifting lanes unexpectedly, keeping you on track.

1Optional as part of the Safety Pack.

SPEED SIGN REGOGNITION


SMART ABOUT SPEED.


The Speed Sign Recognition system reads road signs to recognise changes in the speed limit and suggest the driver adjusts their speed accordingly.

1Optional as part of the Safety Pack.

AUTOMATIC CRUISE CONTROL


KEEP A SAFE DISTANCE.


Automatic Cruise Control1 maintains your desired speed from 30-160 km/h and brakes or accelerates to keep a fixed distance from the vehicle ahead, ensuring a safe, relaxing drive.

1Optional as part of the Safety Pack.

SAFETY & AIRBAGS

BIG ON SAFETY.


Four airbags including driver, passenger and side offer high levels of safety for you and your passengers on the road1.

1 = Optional

DRIVER DROWSINESS ALERT


STAY ALERT AT THE WHEEL.


Driver drowsiness alert1,2 analyses driving patterns to check for signs that the driver is succumbing to tiredness. A series of warnings advise the driver to take action.

1 After 2 hours of driving at speeds above 65 km/h, a warning sound alerts the driver. Simultaneously, the system calculates a distraction level based on driving patterns, such as the driver's ability to stay in-lane. In the event that dangerous driving behaviour is detected, a series of increasingly loud audio alerts are designed to notify the driver and prompt action. The distraction level is decreased after ten minutes of safe driving. Calculation stops when the vehicle speed drops below 65 km/h. 2 Optional as part of the Safety Pack

FLANK GUARD

FLANK GUARD.


The Flank Guard1 system uses 12 sensors to warn of obstacles which may not be visible during low-speed cornering via visual and audio alerts on the infotainment screen.

1Optional as part of the Parking Pack
INFOTAINMENT

SEAMLESS CONNECTIVITY.

The advanced Multimedia Navi Pro1 system is fully compatible with Apple CarPlay™2 and Android Auto™2, allowing you to connect two smartphones at once with the 8" touchscreen3.

Apple CarPlay™ and Android Auto™ enable users to conveniently access useful apps and smartphone functions while driving:

Use the phone as a sat-nav via Maps
Stream your favourite playlists with Spotify
Send and receive messages via WhatsApp and Skype

These features can easily be accessed through voice control to keep hands on the wheel and eyes on the road.

1Standard on LE Nav, optional on Edition and Sportive 2Compatibility and certain functionalities may differ depending on the type of device and version of operating system. Apple CarPlay™ is a trademark of Apple Inc., registered in the U.S. and other countries. Android is a trademark of Google Inc. 3Standard on LE Nav, optional on Edition and Sportive models

NAVIGATION

TOUCHSCREEN NAVIGATION.


Multimedia Navi Pro1 with advanced voice control and full navigation gets you where you're going, stress-free. Just choose your destination and let the sat-nav map your route.

1Standard on LE Nav, optional on Edition and Sportive models

WIRELESS CHARGING

NO STRINGS ATTACHED.


The Combo Cargo's wireless charging system1 allows you to charge your phone on the go, anytime – without the need for cables.

1 Optional
* Opel Singapore will use reasonable efforts to ensure that the contents of this site are accurate and up to date but does not accept any liability for any claims or losses arising from a reliance upon the contents of the site. Some of the information published may not be correct due to product changes which may have occurred since it was launched. Some of the equipment described or shown may only be available in certain countries or may be available at extra cost. Opel Singapore reserves the right to change product specifications at any time. For the actual product specifications, please check with our sales consultant on the latest detailed information.